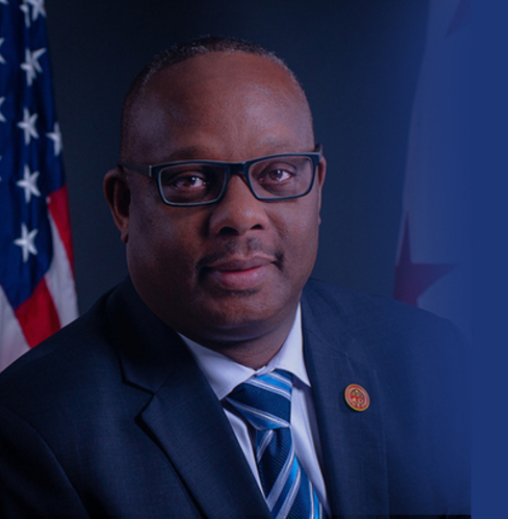 Mr. Daniel W. Lucas is the Inspector General for the District of Columbia.  Mr. Lucas was nominated in 2014 by former Mayor Vincent C. Gray and confirmed by the Council of the District of Columbia (Council) to a 6-year term.  In February 2020, Mayor Muriel Bowser nominated Mr. Lucas for a second 6-year term.  The Council confirmed Mr. Lucas' re-appointment as Inspector General in April 2020.
As the Inspector General, Mr. Lucas provides leadership; coordinates and recommends policies for activities designed to promote economy, efficiency, and effectiveness and to prevent and detect corruption, fraud, waste, abuse and mismanagement in District government programs and operations; and provides a means for keeping the Mayor, Council, and District government agencies informed about problems and deficiencies relating to the administration of programs and operations.
Highlights during Mr. Lucas' first term as the District's Inspector General include:
Instituted a systems approach to OIG operations where cross-functional collaboration leverages information as a commodity to focus finite resources in a complex oversight environment.

Introduced the Baldrige Performance Management Framework within the OIG, which culminated in recognition by the Virginia/District of Columbia Chapter of the U.S. Senate Productivity and Quality Award with the 2019 Baldrige Performance Excellence Award.

Issued 72 Audit, Inspection, and Evaluation Reports, which included 451 recommendations designed to improve District agencies' operational efficiency and effectiveness, and to prevent fraud or detect fraudulent activity sooner, limiting loss to the District.

Obtained over $127-million in investigative receivables and recoveries through criminal investigations.
Prior to his service to the District of Columbia, Mr. Lucas served as the Deputy Inspector General for the Naval Sea Systems Command (NAVSEA), located on the Washington Navy Yard in southeast Washington, DC.  The Naval Sea Systems Command is the Navy's largest systems acquisition Command.  The organization has approximately 56,000 military, civilian, and contractor personnel.  Its fiscal year budget is nearly $30 billion, accounting for one quarter of the Navy's entire annual budget.  NAVSEA's workforce builds, buys, and maintains the Navy's ships, submarines, and weapons systems.
A distinguished Navy veteran with 26 years of service in some of the most challenging duty stations, Mr. Lucas' career is highlighted by successful deployments to the Mediterranean Sea, Pacific Ocean, Arabian Gulf (in support of the Global War on Terror), Caribbean Sea, and service to the Naval Inspector General.  Awards include the Meritorious Service Medal, Navy Commendation Medal, and the distinction, at the time, of being the only person outside of the Department of the Air Force to be presented the John Levitow Award – the highest award presented at Airmen Leadership School.
Mr. Lucas holds a master's degree from the University of Oklahoma and a bachelor's degree from the College of Charleston.  He is a Certified Fraud Examiner, Certified Inspector General, and currently serves on the national board of the Association of Inspectors General.  Mr. Lucas was born and raised in Baltimore, Maryland.